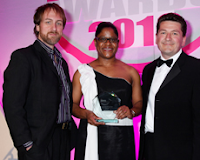 Hygienist of the Year Award!
This prestigious award recognises individuals who have dedicated their lives to the dental profession by working passionately for their local community and making a difference in patients' lives.
The judges were impressed by her wider commitment to the dental profession which includes:
– DCP Tutor London Deanery
– DCP member of the Investigating Committee of the General Dental Council
– British Society of Dental Hygiene and Therapy as Chair of the London Regional Group and nationally as Publications Committee Member
– Editorial Board Member Team in Practice a publication of the Faculty of General Dental Practice
– Mentor[Dental Award]Her dedication to self training is above and beyond the statutory requirement and she was able to demonstrate her dedication and passion by providing certificates for 248 hours of verifiable CPD. She completed an MSc in Health Sciences 2010 at St. George's University of London and is currently completing the final year of a Professional Graduate Certificate in Education.
The judges also considered how she make a difference to her patients, as well as the dental team and how she motivate patients to adopt better oral care routines. She is very pleased to be recognised by her colleagues as someone who is dedicated to the profession and passionate about education. She has been able to give something back through her voluntary role with the BSDHT and will continue to strive to be a leader in the profession